May 27, 2021
MATCHA MACARONS with COCONUT BUTTERCREAM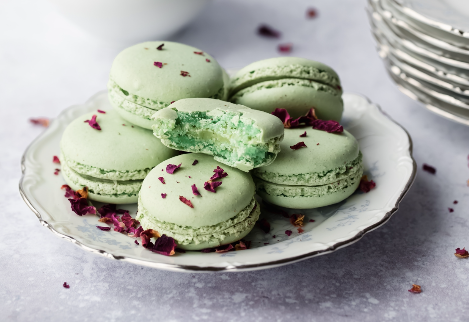 Whether you're a fan of Blair Waldorf or not, you must admit macarons are one of the chicest treats ever! Highly recommended for those who love to be amazed by indulging in a box of different mysterious flavors and discover them all.
In the last few years, they have been a real trend explosion with the result that now they could be found in most of European patisseries (despite of France and Italy are still competing for the birthplace title of these amazing sweets).
Patissiers says it's not easy to make perfect macarons at home but, we tell you a secret… It's not true! It's all about the batter consistency. Once tried a couple of times you'll become a master, we'll guarantee.
The best thing of this recipe is that it can be customized using thousands different flavors. You can have the buttercream matching with the "shells" for a stronger taste or create interesting contrasts between ingredients.
Ready? Let's do it!
INGREDIENTS
Macarons:
Buttercream:
Kitchen aids:
Spatula
Kitchen whisk (or robot)
2 Baking sheets
2 Piping bags with large round tip
 Preparation Time: 30 min
Cooking time: 8/10 min each sheet
Step 1 _ PREPARE
First of all, prepare a large piping bag, fitted with a large round tip and line two baking sheets with parchment paper.
Pre-heat the oven to 160° and heat a pan with water till simmering.
Then place egg whites and granulated sugar in a heat proof bowl (glass, preferably) and, making sure the bottom of the bowl isn't touching the water, whisk the mix over the steam until frothy for a couple of minutes till the sugar completely melted.
Step 2 _ MIX
Whisk the mixture with a pinch of salt until they are firm and soft. Then, in a separate bowl, sift powdered sugar, almond flour and EVAH Essentials | Matcha & Kale together. Add the powdered ingredients to the egg whites and stir slowly, forming a letter J with a spatula.
The mixture is ready when the batter looks glossy and has a thick and creamy consistency.
Step 3 _ REACHING THE PERFECT CONSISTENCY
Check first if the consistency of the batter is perfect grabbing a teaspoon of it and spoon onto the parchment paper. If the batter spreads out a bit and starts to look glossy then you're ready to transfer the mixture to the piping bag.
Pipe as many circles as you could, bang the tray against the counter a few times each. This will help releasing air bubbles that are in the batter and prevent your macarons shells from cracking. Let your trays sit for around 30 min so the shells will dry out a little bit (when gently touching the surface they have to seem dry).
Step 4 _ COOKING
Bake one tray at a time, for 4 minutes. Then rotate it and bake for 4 minutes more. Take a look at them, if one side seems taller than the other maybe you should rotate it again. Pay attention to not overbake, once you see the top shiny and the feet formed the macarons are ready. Remove from the oven and let cool down before proceeding with filling.
Step 5 _ TIME FOR THE FILLING
Sift powdered sugar and EVAH Essentials | Matcha & Kale together. Set aside.
Cream butter on medium speed until creamy then add the coconut milk and the powdered ingredients and beat until mixture is perfectly incorporated. As a last step, add vanilla extract and beat again for 30 sec.
Step 6 _ ASSEMBLY
Put filling in the piping bag then pipe a dollop in each macaron and close the sandwich. Et voilà! Your macarons are ready to be enjoyed.
You can store them in the fridge, in an air tight closed container for 4/7 days.
Get your formula!
 If you've found this article useful and you have already tried our recipe don't forget to share it with the tag #myevahskitchen. We look forward to see all of your creations!