May 27, 2021
COCONUT CHIA PUDDING with APRICOT & PASSION FRUIT COMPOTE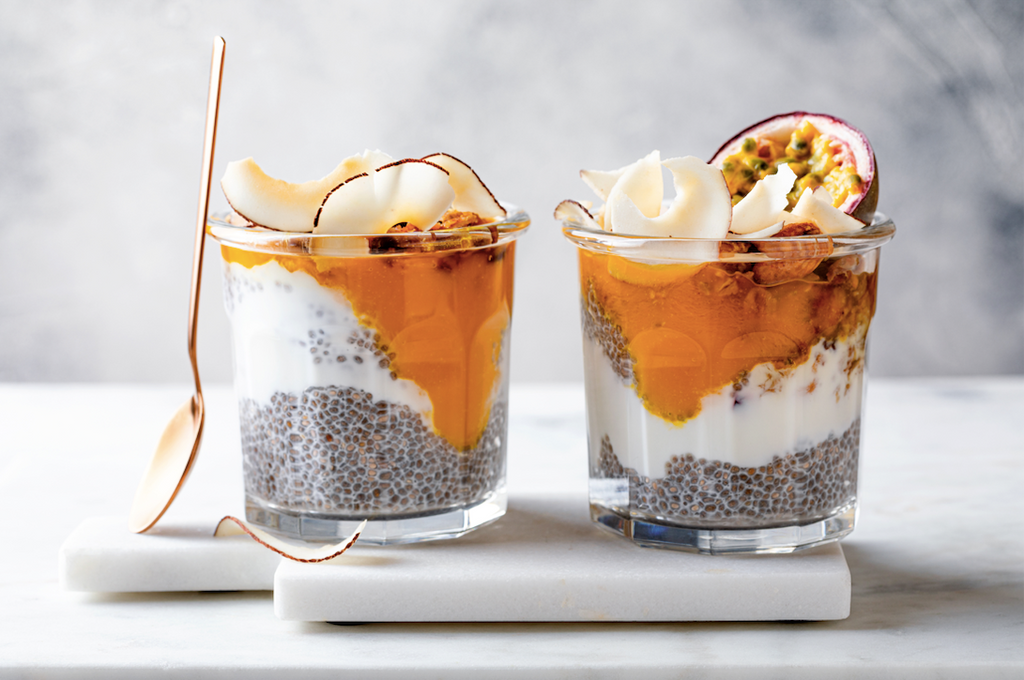 Chia seeds are a must, nowadays. However, not everybody knows that they were already considered a staple food from the ancient Aztecs and Mayans. In fact, "chia" is the ancient Mayan word for "strength". Rich in Omega-3 fatty acids, fibers, proteins, essential minerals and antioxidants, they may significantly improve our health and beauty, since they're an amazingly nutritive. The wellness of our heart, blood pressure, brain, skin and hair will get significantly improved if consumed daily.
We can use it as a universal topping or, thanks to their ability to absorb liquid and form a gel, they can also be used to thicken sauces or as an egg replacement. Anyway, one of the best ways to consume the correct daily amount of chia seeds is Chia Pudding. Jelly and sweet, you can make it using your favorite plant-based milk (together with a Superfood powder of your choice) and adding fresh fruits, compotes or granola as topping.
We love this delicate and fresh version but you can enjoy using many more ingredients (and layers).
So now let's have a look at the 3 simple steps to create a delicious tropical version of Coconut Chia Pudding.
INGREDIENTS
Pudding:
4 tbsp Chia seeds
2 tbsp Shredded unsweetened coconut
300 ml Coconut milk
1 tsp Vanilla extract
2 tsp Maple syrup
Compote:
1 Passion Fruit
2 Apricots (ripe)
1 tbsp Coconut sugar
For topping: coconut flakes, almonds
Preparation Time: 20 min
Cooling Time: overnight
Step 1 _ PUDDING
Stir the ingredients together in a glass or jar. Let sit on the counter 10 min, giving it a stir every 2-3 minutes (to avoid getting any clumps). Then let it cool in the fridge from 1 hour to overnight. The more it sits, the more the seeds have time to expand and reach a jelly consistency.
Step 2 _ FRUIT COMPOTE
Cut the apricots in little pieces and place them in a saucepan together with the passion fruit pulp and the sugar. Heat the fruit over medium heat, stirring frequently until the sugar has dissolved and you end up with a thick jam-like consistency. Add a little extra water if the compote is too thick. Let cool for 10 minutes then add EVAH Elixir | Bahama Mama and stir until incorporated. Store in the fridge.
Step 3 _ ASSEMBLY
Place the compote over the coconut pudding then decorate it with crunchy almonds and coconut flakes, for the perfect breakfast or an on the go snack.
Get your formula!
If you've found this article useful and you have already tried our recipe don't forget to share it with the tag #myevahskitchen. We look forward to see all of your creations!