May 27, 2021
VEGAN PUMPKIN BREAD with VANILLA CREAM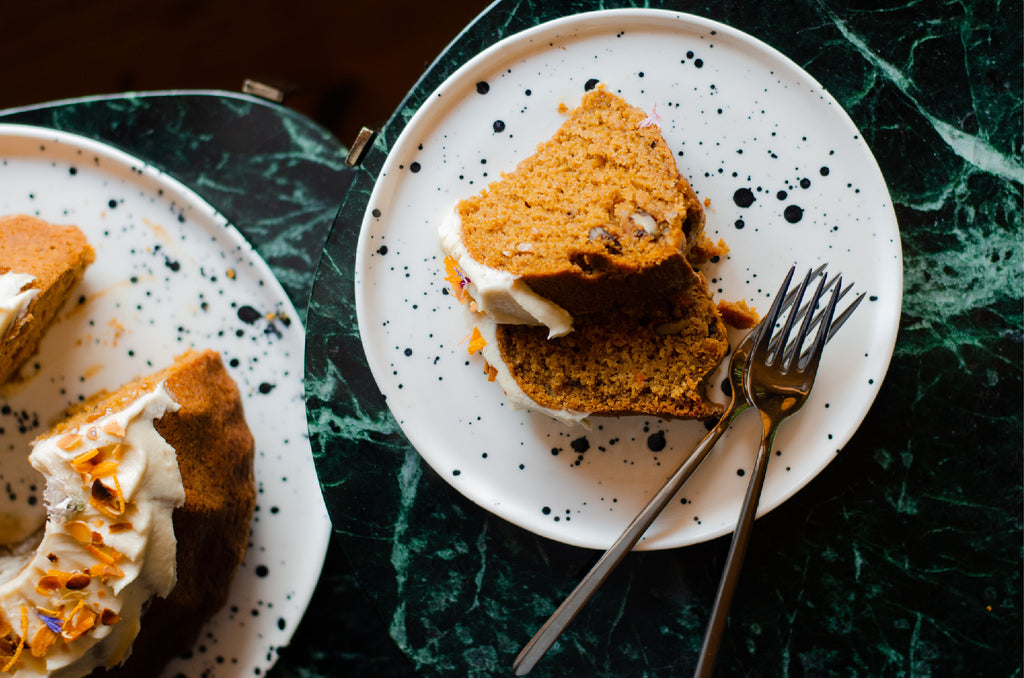 Pumpkin is one of the most trendy and versatile food that permits you to create infinite salty or sweet dishes. Weather if you're vegan or not, this recipe is the healthier version (and more digestible, because it isn't involving eggs) of the traditional one that can be enjoyable by the whole family.
EVAH'S TIP:  As an alternative, try the same by replacing pumpkin with bananas and pumpkin seeds with shredded almonds.
INGREDIENTS
250 gr All-purpose Flour

150 gr Brown Granulated Sugar

2 tbsp Maple Syrup

3 tsp Baking Powder

1/2 tsp Nutmeg Powder

1/4 tsp Ground Cloves

a Pinch of salt

340 gr Pumpkin puree (preferably fresh)

60 ml Seed Oil

1 tsp Vanilla Extract

1 Flax Egg (1 Tbsp Ground flaxseed meal + 3 Tbsp hot water)
For topping (optional):
1 Small Handful of Pumpkin Seeds (Pepitas)
For the cream:
150 gr Cream Cheese
70 gr Melted Butter
100 gr Icing Sugar
1 tsp Vanilla Extract
Preparation Time: 15 min
Cooking time: 40 min
Step 1 _ DRY INGREDIENTS 
Pre-heat the oven to 180°C.
Sift the flour into a mixing bowl and add all the dry ingredients, included the maple syrup.
Step 2 _ FLAX EGG
Prepare your flax egg by adding 1 tbsp ground flaxseed meal to a bowl and the adding in 3 tbsp of hot water from the kettle, leave to sit for a minute to become gloopy.
Step 3 _ PREPARE THE ICING
In a separate bowl, mix the melted butter, cream cheese, vanilla extract and icing sugar with a whisk until smooth.
Step 4 _ COMBINE
Combine the wet and dried ingredients and stir until smooth. Transfer the batter in to the loaf pan (previously covered with parchment paper) and add let fall some spoons of vanilla icing inside. Place into the oven and bake for 40 minutes or until a toothpick inserted into the center comes out clean.
 Step 5 _ SERVE
Once the bread is ready, let it cool before slicing. Finally, spread the rest of the
icing
over the top or use the cream to decorate the plate when serving.
Get your formula!
If you've found this article useful and you have already tried our recipe don't forget to share it with the tag #myevahskitchen. We look forward to see all of your creations!