May 27, 2021
Homemade NUTS & CRANBERRY GRANOLA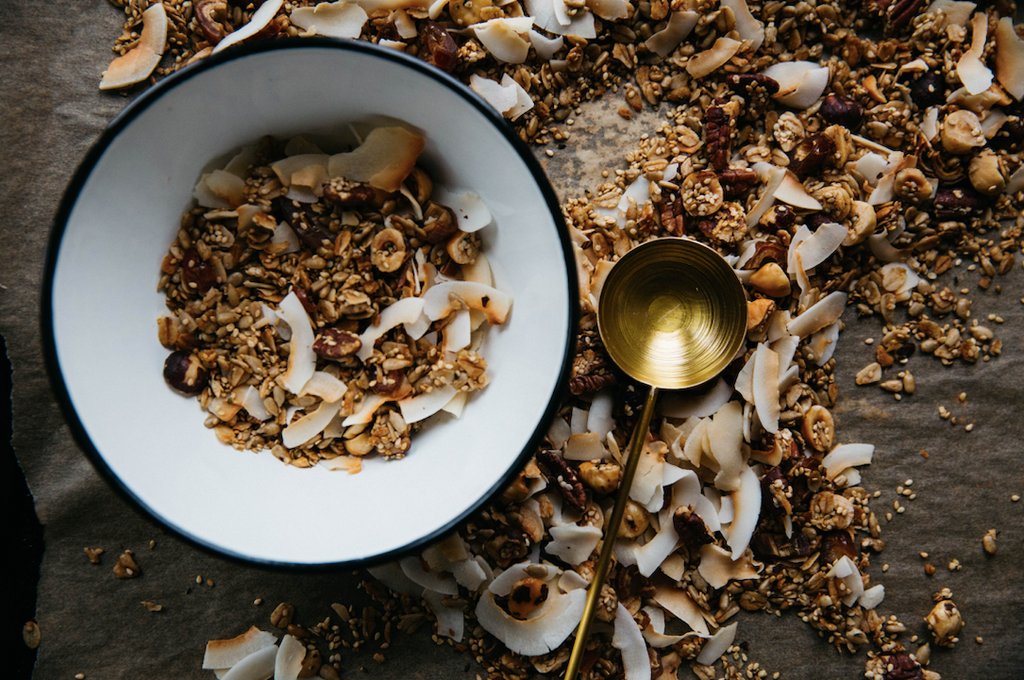 At the supermarket, we are used to be very careful and not buying more processed food then necessary, so we start to think about filling our pantry in a different way. When buy single raw materials, in fact, you can be sure to avoid any additives or sugars which are present in large quantities in ready-to-eat products.
Moreover, this would make you customize your recipes till find the one you cannot live without!
Try a new combination every week and enjoy different flavors.

INGREDIENTS
300 gr Rolled oats
50 gr Raw shelled sunflower seeds
50 gr Chopped raw walnuts
50 gr Chopped raw pecans
50 gr Sliced raw almonds
20 gr Flaked unsweetened coconut
2 tsp Ground flaxseed
2 tsp Wheat germ
3 tsp Coconut oil (melted)
3 tsp Maple syrup
3 tsp Brown sugar
100 gr Dried cranberries (or/and any dried fruit)
a Pinch of salt
Preparation Time: 10 min
Cooking time: 10 min
Step 1 _ STIR THE MIX
First of all, pre-heat the oven to 180° then combine all the ingredients in a large bowl and stir until they are completely blended.
Step 2 _ COOK
Spread the mix on a large baking sheet (previously covered with parchment paper) and let it cook for around 10 min.
Then, let it cool and enjoy the granola sprinkled on your yoghurt or smoothie.
If you've found this article useful and you have already tried our recipe don't forget to share it with the tag #myevahskitchen. We look forward to see all of your creations!