May 27, 2021
5 BEST DIGITAL NOMAD'S DESTINATIONS TO MOVE IN (ASAP)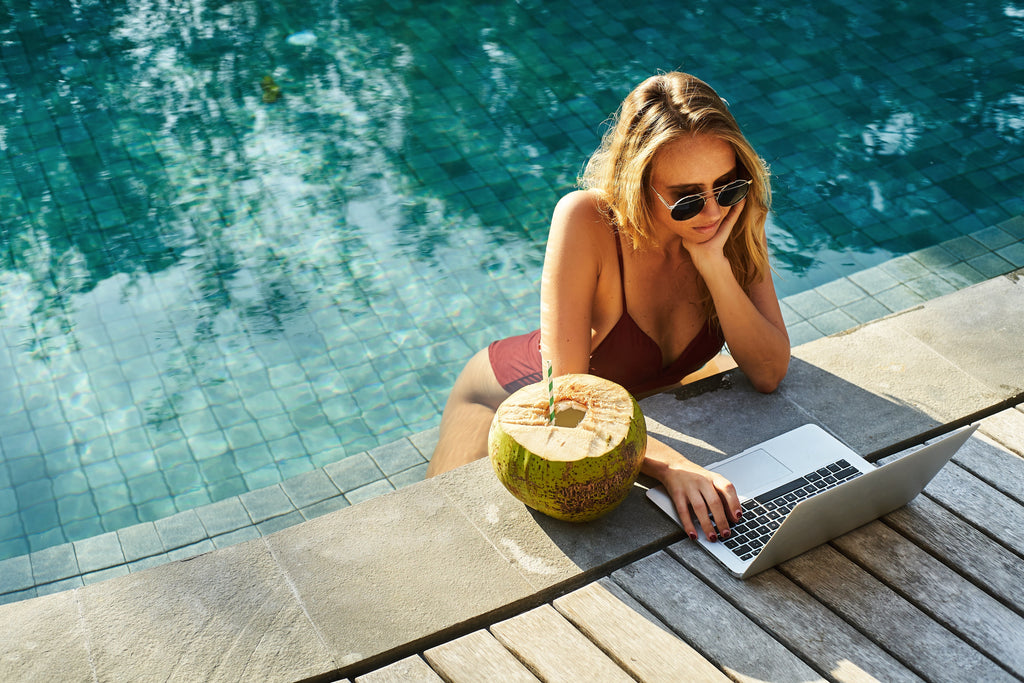 During the last fifteen years, consequently to the exponential growth of digital opportunities, more and more people have started redefining the concepts of work. Just think that the number of people who work online has increased by 140% since 2005.
Some of them have founded veritable businesses, which could be fully managed online, doing without the investment of a fixed location and a net of employees.
Even though a flexible lifestyle doesn't necessarily show only positive sides (if we think about loneliness, depression and the difficulty to shut off from work and make a right use of free time), it seems at least 69% of Millennials would give up other work benefits for a more flexible working.
The 77% of people interviewed by Buffer, believe working from home improve general health because it allows for a better diet, more exercise, and a generally healthy lifestyle. Comparing to office life, they have fewer distractions and let themselves concentrate more on tasks then on social aspects.
Despite there're many ways to consider "home" as concept, what we all agree is that it must be a place where you feel protected, comfortable, and have to be compatible with your lifestyle.
And that's why, according to our community of digital nomad babes (yes, all the locations are woman-friendly!), these are considered the best 7 destinations if you are working online, where you can both enjoy yourself and improve your lifestyle for real.
1. BALI, INDONESIA

As you probably already know, Bali offers a rare blend of great cultural and dining options, tropical scenery, friendly locals, interesting expats, and cheap prices that is hard to match. Most of the island is still largely left alone by tourists, and a few places have a unique blend of Balinese and Western cultures that make them both otherworldly and very homey.
Those who are into healthy living consider the island one of the best places to live in the world for a good price. 
If your dream is to live and work near the beach, Canggu, just north of the crowds of Kuta won't disappoint you. It has plenty of yoga, a small but emerging party scene in Echo Beach, and the chance to surf and sun on the beach.
On the contrary, if you look for a more urban vibe instead, there's Seminyak, emerging as the place to be for digital nomads, with co-working spaces popping up and a very hip young crowd drinking coconut milk lattes and eating in some great new restaurants that cater to them.
There, location indies can find not just high-speed internet, but also colleagues, conversation, and even inspiration, and all on their own terms and timetable. For those whose online business or freelance work pays in dollars or Euros, small income streams make a big difference on Bali.
Thanks to the best seller of Elizabeth Gilbert – Eat Pray Love, a growing number of tourists and long-term visitors have spent some time in the Ubud region in the past few years, to heal in more spiritual and holistic ways. The town is a great place to learn or practice yoga in beautiful, well-equipped studios.
2. PORTO, PORTUGAL

Quality of life, friendly people and delicious food are all things that Porto (or Oporto) is known for. Portugal's second biggest city is fast becoming a preferred destination for people from across the globe to settle down.
It's full of old architecture and history, yet offers the comforts of any modern city. You can just as easily fall in love with oceanside living as you can be drawn to the Douro valley.
Portugal is third on the Global Peace Index and is one of the safest countries to live in. The index ranking considers several factors such as crime, perceived criminality and conflicts so don't worry too much about walking down the street at night, or leaving your laptop unattended while you grab another cup of coffee. Porto is very safe.
Although Porto isn't as popular as Lisbon, it's growing in popularity among digital nomads. There are plenty of great coworking spaces, so the people who love to attend local events and network with like-minded individuals will appreciate the large number of events and workshops hosted by them all around the city.
Settling down in a country that speaks a different language can be tricky, but most people are very accommodating. Learn a little Portuguese before you land and your attempts will be appreciated, but most people can speak and understand English (or Spanish) well enough.
3. TULUM, MEXICO

With a palpable Bohemian vibe and a plentiful scattering of yoga practitioners and therapeutic massage businesses, this growing community retains its backpacker roots. Tulúm's reputation as a spectacular vacation destination and a growing expat community is well-deserved.
With a tropical climate, Tulúm offers a Caribbean lifestyle where residents enjoy warm, turquoise Caribbean waters, a sparkling, perfect beach.
Living in the central town area will not require you to own a car, and walking and bicycling are both quite popular.
Discovering great restaurants and pubs is always fun and in Tulúm there are plenty, for different budgets and taste, where you can easily make friends.
New businesses are growing exponentially and so they are young ambitious from all over the world, looking for a relaxed but stimulating place to live.
The wi-fi connection is fast and you can find all the facilities at your fingertips.
The town is small and fairly easy to navigate, so it suits people who are looking for a great short-term place to reconnect themself before (maybe) heading onto another city to explore.
4. CANARY ISLANDS, SPAIN

Closer to the west coast of Africa that Spain, the Canaries include the perennially popular Tenerife, Fuerteventura, Gran Canaria and Lanzarote. The location means you will enjoy sunshine all year round and a consistent climate that averages at 17 ºC in the winter and 24 ºC in summer thanks to a cool offshore breeze.
Whether you have ever travelled to Canary Islands or not, you should know these are islands of great contrasts so it doesn't matter if you are an extrovert or an introvert, in Canary Island you will find your place.
While Tenerife it's considered the best island in the Canaries for airport travel, with two international airports (North and South) and a great cultural environment, Gran Canaria is known for being the capital and for its coastal resorts. Buzzing nightlife, upscale villas and boutiques, and the famous wind-sculpted dunes where you can easily find beaches for every taste. The big island is also known as a funny spot for LGBT community.
In Fuerteventura there's definitely something in the air. This otherworldly island of mountains, desert-like sand dunes, and sea breezes is filled with mood boosting negative ions. Perhaps this is why people frequently describe feeling an almost 'spiritual' connection to this mysterious island.
Same mood at its finest for the Unesco-designated biosphere reserve, Lanzarote. It is known for its surreal landscape of volcanoes, year-round warm weather, and beautiful beaches. Gone are the bucket-and-spade associations of yore – Lanzarote is turning into quite an upmarket destination.
Its eco-friendly credentials are second to none thanks to the influence of the visionary artist, architect and environmentalist César Manrique, who tirelessly lobbied planning authorities to prevent Lanzarote from the ravages of over-development.
As a Spanish territory, each island has all the facilities you could need and a cheap cost of living but we suggest to not forget to hire a car or scooter, as the distances between towns are pretty large and the transportation network is not much efficient.
5. TALLINN, ESTONIA
Tech types and the otherwise permanently employed might be tempted by the recently launched of Digital Nomad Visa, which not only lets you stay in Estonia up to 12 months, but grants you travel access to the entire EU Schengen zone.
Your calendar will fill up fast with long weekends in Helsinki, Stockholm, Copenhagen, and Berlin.
 
Do plant a few roots in Tallinn, though. The seaside capital has made huge strides in the creative/cool department lately, with impressive new cultural institutions, trendy co-working spaces, avant-garde restaurants, and a ridiculous number of breweries.
Tallinn has also lots of museums, theaters and cultural life. Make sure to visit the Kumu museum located at the Kadriorg park, and the Summer Palace of Peter the Great encompassed by its stunning gardens.
Just outside the gothic Old Town, Telliskivi Creative City packs art galleries, design showrooms, vintage boutiques, and chic cafes into revamped warehouses.
Tallinn is a safe city. It's not only a European town but the capital of one of the most advanced and modern Eastern European countries. Moreover, is a walkable, pedestrian-friendly streetscape. Being a small city, you can get from one end to the other in one hour on foot. If you live close enough to the old town, you have everything at walking distance.
However, Estonia is one of these countries where you can experience all four seasons at the right time and the winters are pretty long and cold. The summer season, blessed by soft temperatures, is probably the best time to spend in the city and while it's not the most affordable one in this list, it's still a bargain comparing to Scandinavian standards.
If you've found this article useful and you (or your friends) are already living an experience abroad we would be excited to receive your feedback. And don't forget to share it with the tag #evahslifestyle !