May 27, 2021
BLUEBERRY CHÈVRE CHEESECAKE POPSICLES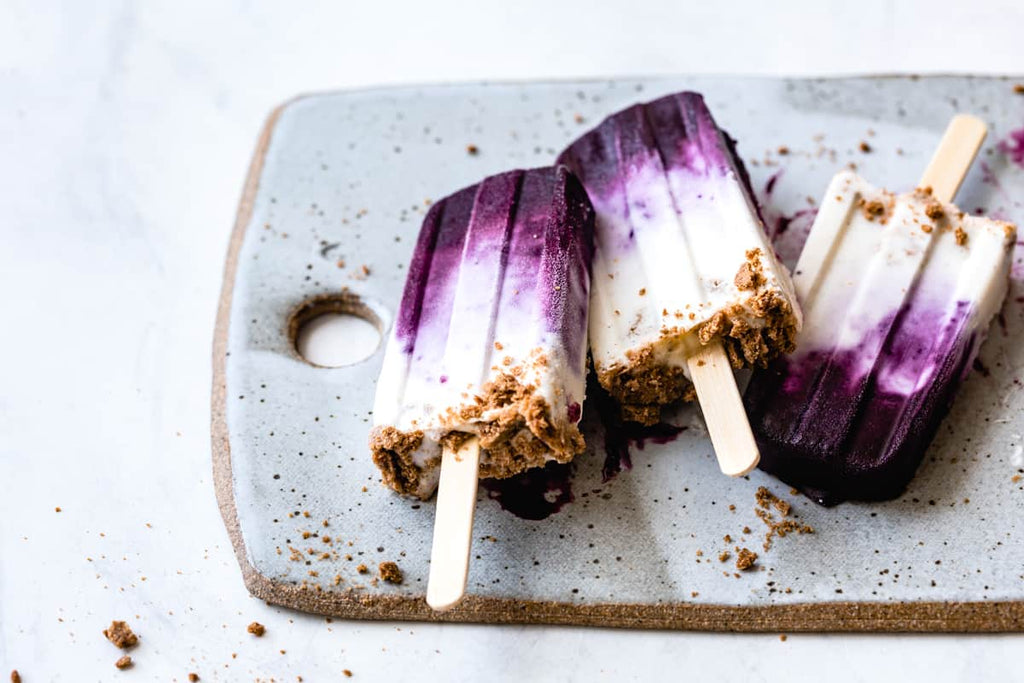 Let's have a fresh and delicious summertime break with these blueberry-flavored popsicles, which are a must for Cheesecake lovers like us. Healthy and colorful, they can be enjoyed as an afternoon snack or served to amaze your guests after a fancy dinner.
Anyway, you can consider the below as a base recipe. In fact, you can realize different variations just replacing blueberries with your favorite fruit and enjoy trying the perfect match with different EVAH's products.
Our lifetime favorite is the cherry one!
What's yours?
INGREDIENTS (for 10 popsicles)
BLUEBERRY LAYER:
210 gr of Blueberries

35 gr Organic granulated sugar (or coconut sugar)

80 ml Water

Zest of ½ medium lemon

2 tbsp Lemon juice
CHEESECAKE LAYER:
85 gr of Fresh goat cheese*

85 gr of Cream cheese*

230 ml Low-fat Milk *

75 gr Organic granulated sugar (or coconut sugar)

½ tsp Vanilla extract

Zest of ½ medium lemon

1 tbsp Lemon juice

35 gr crumbled Granola (or cookies)
*you can easily replace the dairy products with a Vegan alternative:
60 gr of Coconut cream

105 gr of Vegan cream cheese

230 ml of Coconut milk
Preparation Time: 15 min
Step 1 _ BLUEBERRY SYRUP
 Combine the blueberries, lemon zest, lemon juice, sugar and water in a medium saucepan. Bring the mixture to a simmer over medium heat and cook, stirring occasionally, until the juices are reduced by half and bubbling thickly, 5-10 more minutes. Let cool to room temperature, then add EVAH foods | Maiko's Kiss Elixir and puree smooth with a blender.
Step 2 _ CHEESECAKE MIX
In the pitcher of a blender, combine the goat cheese, cream cheese, milk, vanilla, lemon zest, sugar and juice and puree smooth.
Step 3 _ FILLING THE MOLDS
Divide the blueberry puree among 10 popsicle molds. Gently pour the cheesecake layer over the blueberry layer, leaving a scant half-inch of space at the top.
Use a chopstick to swirl the layers together slightly. Crumble the granola on top of the cheesecake layer and press the crumbles into the mixture so they stay put when frozen.
Place popsicles sticks in the molds and freeze until solid, up to 4 hours or overnight.
Then, remove from the molds and serve.
Get your formula!
If you've found this article useful and you have already tried our recipe don't forget to share it with the tag #myevahskitchen. We look forward to see all of your creations!
Inspired by: Alanna from bojongourmet.com